Welcome back to the second installation of Knock Out Knock Offs, a series where six of us bloggers each adapt an off-the-shelf item from a favorite store!
Amy – Delineate Your Dwelling / Tasha – Designer Trapped in a Lawyer's Body /  Katie – Upcyled Treasure / Brynne – The Gathered Home / Ashley – Bigger Than the Three of Us
Typically, I love Zara Home but their current line is all beachy and tropical which is about as far away from my style as you can get.  I was hitting a road block in terms of what I could make that I would actually use so I stepped back and focused instead on my own style.
What could work with lots of whites, natural woods and modern pieces?  I could see this table runner doing the trick.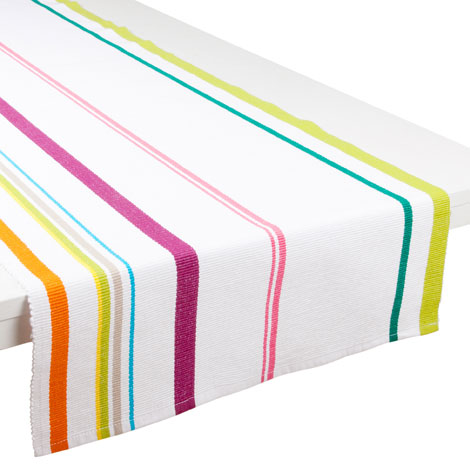 (source)
I don't do a lot of tablescapes (the first and last one I did was in fall) so I thought this would be a fun little project that could push me out of my comfort zone a bit but still allow me to be authentic to my style.  
I started with some burlap that I had tacked on to an online fabric order to meet the minimum purchase for free shipping.  It was so affordable and I've seen so many crafts using it I thought it would be a safe bet to add to my crafting arsenal.
I started with giving my burlap a good ironing so I could paint on some nice straight stripes.
Then I got to taping.  Seriously, I need to check if Costco sells blue painter's tape in bulk cause I swear I go through this stuff like no other.
I was pretty excited to finally be able to use one of the the test pots I had bought on a whim almost a year ago.  I love this bright yellow green color!
Part of what I liked so much about the original Zara Home table runner was its painterly stripes so I was sure to incorporate some of that into my design as well by showing a mix of colors.
Make sure you line your burlap with something underneath while you're painting.  The paint definitely will bleed through. 
Since the lighting in our dining room is probably the worst in the whole house, I created a little outdoor setup in our new backyard.
Anak thought this was some little pretend coffee station I had setup especially for him.  Usually, he'd be right cause I always get these cooky ideas to create sensory experiences but not this time around ; ]  I did let him play with the sugar and cream a little bit though.
Next month's knock-off store is Urban Outfitters which always brims with inspiration for me, can't wait!
And don't forget to check out these five other fabulous Zara Home inspired projects.  Seriously, I feel like we all coulda taken our projects and created the most amazing tablescape ever!
This post may be linked to any one of these link parties.
Do you have a favorite use of burlap?  Do you have a go-to method for creating table runners?