fling  (fl

ng) noun: a short period of unrestrained pursuit of one's wishes or desires.
In the region I live in, chair rails are very uncommon.  I always thought I liked chair rails but as my understanding of my personal design aesthetic evolves, I'm realizing I actually find chair rails to be a bit too formal for my tastes.  Of course, there are ways to tone down the formality and I would be reluctant to remove it if I moved into a home that already had it.
In any case, I do appreciate two toned walls particularly without chair rails.  It's an effective way to make rooms with high ceilings (we have a handful of those) feel cozier and it's a fun way to inject some color and personality into a room.  And let's face it, it means less time painting!
(source)
I think they're great in kids' rooms especially since they can appreciate the color at their height ; ]  Plus, any color other than white should be better at masking dirty hand prints.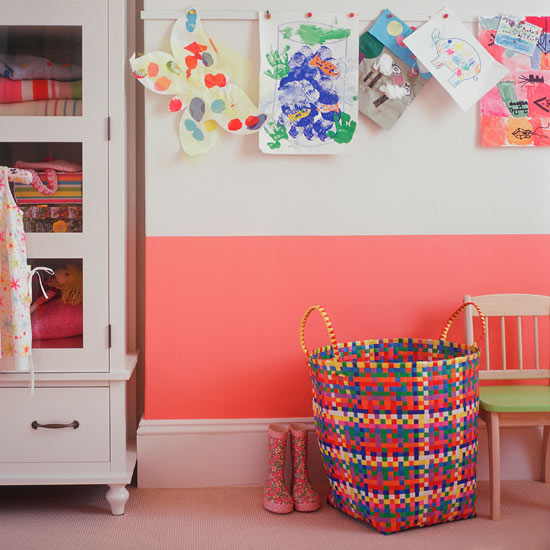 (source)
(source)
(source)
(source)
I really like the neutral tones, too.  I'm not a huge fan of the grey trend but I would seriously consider something like this.
(source)
(source)
(source)
(source)
(source)
Do you prefer the bright or neutral two toned walls?  Would you consider painting a room two toned?