It's our final Knock Out Knock Offs challenge and I have one last project to share with you.  This month's inspiration store was Anthropologie.
Amy – Delineate Your Dwelling / Tasha – Designer Trapped in a Lawyer's Body /  Katie – Upcyled Treasure / Brynne – The Gathered Home / Ashley – Bigger Than the Three of Us
I was inspired by this oakwood makeup brush holder.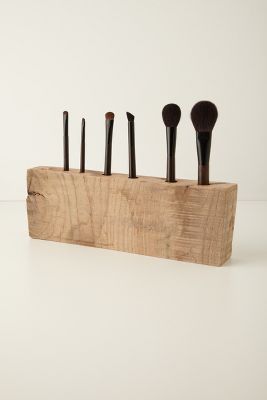 (source)
The reviews were not too kind and maintained the sentiment that this item was something that could have been whipped up with an old chunk of wood and some drill bits.  Enter old chunk of wood and some drill bits!
This particular chunk of wood is one my almost-four-year-old practiced hammering nails into.  If I had a nicer chunk I would have gone for that since rustic and worn is nowhere near my personal style but hey, free is free!
Since we moved, all my brushes and cosmetics have been jumbled in a broken vanity drawer.  It's super non-hygienic and it was high time I got those brushes out of there.  I think I brushed it off (hehe, I made a funny) because I thought our bathroom remodel (and thus a better storage situation) was on the horizon but we've been here for six months now and a bathroom remodel is nowhere near the top of our list of updates.
After I gave my brushes a good cleaning, I laid them out across my wood to decide on the spacing.
Then I marked where I wanted the holes to go and traced around the larger brushes to get a better sense of which drill bit to use.  I love that since I was DIYing this piece I got to make a spot for my kabuki brush which I use for bronzer on a near daily basis.  Most makeup brush holders don't have a place for these type of brushes.
Then I went to town with all my different drill bits.  While drilling, I wedged the piece of wood between my feet while wearing flip flops (which most locals where about 10-11 months out of the year).  You can take a guess how that went…
After I had finished, I gave the piece a quick sanding.
It's great!  I love how chubby it is and again, since it's a custom piece, I was able to pick only the brushes I use on a daily basis.
This could be a cool print in a girly bathroom, dontcha think?
I'm thinking of ways to modernize this makeup brush holder.  Maybe some white paint on select sides?
Or maybe since this is a tad more rustic having it around other modern pieces will give it a more eclectic feel which I could go for, too.
I think this could easily work in a shared bathroom since the materials and colors are fairly neutral.
Clearly, this bathroom vignette was staged outside our bathroom because our bathroom is still looking an awful lot like this:
And that's before the broken door which we haven't fixed cause there's a remodel on the way….someday.
If you're looking for more Anthropologie inspired projects, hop on over to these blogs.
I seriously had the best time ever with this series and the one project a month timeline was the kind of pace I could get on board for.  I was blown away by the creativity of these amazing ladies!
Here are the projects I made over the past few months:
In our first month, I made a chalkboard clock inspired by West Elm.  And yeah, it cost me less than $2 to make!
Next was a burlap striped table runner inspired by Zara Home.
It was out of my comfort zone but I still found a way to adapt it to my style using other elements.
And last month I made an origami ring holder from air dry clay inspired by Urban Outfitters.
Thanks for following along and I hope you gathered some ideas to adapt your own favorite items from commercial stores.
And again, thanks to Amy, Tasha, Katie, Brynne and Ashley.  I had the best time!
If you'd like to enter for a chance to win a $100 gift card to Target, hop on over to DIY Candy.
If you're already a Brave New Home follower, chances are you're already qualified for at least two entries!
This post may be linked to any one of these link parties.
How do you store your makeup brushes?