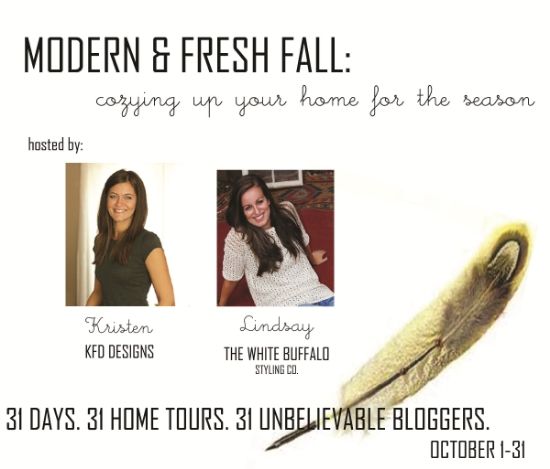 (source)
Today we're kicking off the first day of Modern & Fresh Fall Home Tours.  Kristen from KFD Designs and Lindsay from The White Buffalo Styling Co. are hosting this lovely fall homes tour and I couldn't be more excited by the lineup (and to be part of it!).
I'll be rounding out the month so I'll see you back here on October 31st for my modern fall home tour.  My inspiration is a bit unusual and something you'd probably never associate with fall—Easter eggs!  Yup, that's right.  Easter eggs will be inspiring my fall decor.  I'm excited bythe challenge because I'm crazy about fall yet unlike most things in my home, I've never tried a modern spin on it.  I'll also be decorating with a material I've never used before—-wheat!  When I bought my mini bushel my husband asked if it wouldn't just be easier if I bought wheat bread instead of trying to make my own (he's starting to get this DIY thing!).
Here's the full lineup:
October 1 – Kristen from KFD Designs and Lindsay from The White Buffalo Styling Co.
2 – Sarah from Sarah M. Dorsey Designs
3 – Gabbi from Retro Ranch Reno
4 – Brittany from Brittany Makes
5 – Jesse from Scout & Nimble
6 – Julia from Cuckoo 4 Design
7 – Carolyn from Sweet Chaos Home
8 – Jennifer from The Chronicles of Home
9 – Bethany from Dwellings by Devore
10 – Carmel from Our Fifth House
11 – Kristin from The Hunted Interior
12 – Annekke from This That & Life 
13 – Michelle from Décor and the Dog
14 – Cassie from Primitive & Proper
15 – Ally from From the Right Bank
16 – Shannon from Shannon Berrey Designs
17 – Danika from Gorgeous Shiny Things
18 – Kristin from Bliss at Home
19 – Jenna from Rain on a Tin Roof
20 – Jessica from Dear Emmeline
21 – Kelly from View Along the Way
22 – Sarah from Lacquer and Linen
23 – Eileen from A Creative Day Blog
24 – Sarah from Royal Marigold
25 – Lori from Lori May Interiors
26 – Jennifer from Dimples and Tangles
27 – Caitlin from Desert Domicile
28 – Sherry from Design Indulgence
29 – Lakeitha from Lakeitha Duncan Lifestyle Blog
30 – Shavonda from A Home Full of Color and Whitney from The Curtis Casa
31 – Angela from Number Fifty-three and Jennifer from Brave New Home (<– that's me!)
Can't wait to see you back at the end of the month!
Any modern fall home tours from this list you're particularly interested to see?  Are you already envisioning my Easter egg inspired decor or are you just scratching your head?  Be honest!